Samosa Recipe
Fried, Potato-Filled Dough Pockets
To make the samosa filling, heat in a skillet:

1 Tablespoon vegetable oil
pinch hing
1/2 teaspoon cumin/mustard/sesame seed mixture

When the seeds pop, add:

1 medium onion, finely chopped
1 Tablespoon fresh coriander leaves (cilantro), chopped

Sauté until the onion becomes translucent, then add:

1/2 Tablespoon amchur (mango) powder, or 1 Tablespoon lemon juice
1 teaspoon cumin/coriander powder
1/2 teaspoon salt
pinch hot red pepper powder

Sauté a few minutes, then add:

3 medium potatoes, boiled, peeled, and cut into very small pieces
1/4 cup frozen peas (opt.)

Mix well and sauté just until heated through, them remove from heat and set aside.

To make the samosa dough, mix in a bowl:

2 cups white flour
2 1/2 Tablespoons vegetable oil
1 1/2 Tablespoons rice flour
1/2 teaspoon salt

Add water gradually (about 1/4 cups) until the dough holds together, and knead well. Roll into a ball and cover with a moist cloth. Let rest about 20 minutes.

To assemble the samosas, break off 1 1/2"-2" pieces of the dough, and roll out into 6"-8" diameter circles. Cut each circle in half. Fold each half-circle in thirds to make a pie-wedge shape. Seal the point by pressing or pinching. Pick up the dough, and seal the outside edge by pinching to form a cone. Fill the cone two-thirds with potato mixture. Moisten the lip of the cone with a little milk or water, and pinch to seal. Press the samosa between your palms to remove air pockets. Flute the top edge and cover with a moist cloth until ready to fry.

To cook samosa, deep fry until browned, turning twice; drain. Serve with Tamarind-Date Chutney.
Category
Breads
Servings
Makes 30
Serving Size
1
Calories
56
Protein
g
Fat
0.9 g
Carbohydrates
9 g
Pictures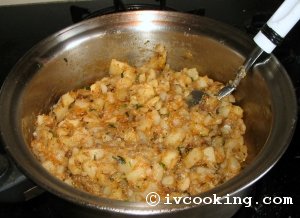 Prepared potato stuffing for samosas.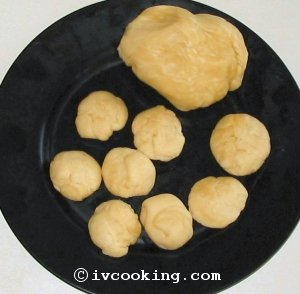 Prepared dough for samosas.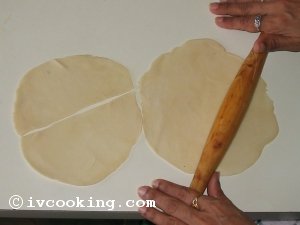 Roll out dough balls into circles then cut in half.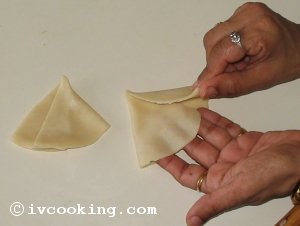 Fold the dough half-circle into a cone.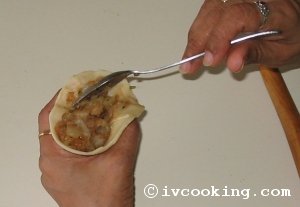 Stuff the cone with potato filling.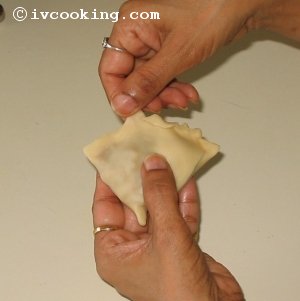 Curl the edge and seal the cone with your thumb.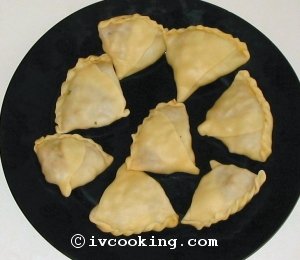 Prepare the samosas for frying.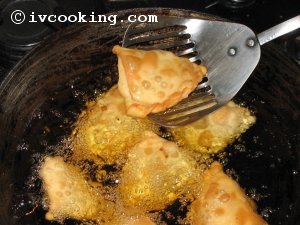 Fry the samosas in hot, deep vegetable oil until golden brown.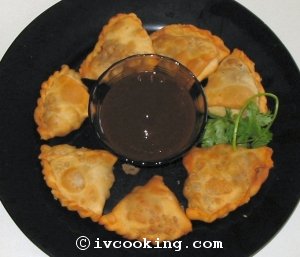 Enjoy samosas with Apple Butter Chutney or Tamarind-Date Chutney.
Please do not copy this recipe. Please share it or link to it with this code:
<a href="https://www.ivcooking.com/p269_85.php">Samosa Recipe: Fried, Potato-Filled Dough Pockets</a>
More Indian Vegetarian Breads
---