Batata Wada Recipe
Fried Potato Dumplings
In a large bowl, combine:

5 large potatoes, boiled, peeled, and mashed
1 teaspoon fresh grated ginger
2 teaspoons fresh minced garlic
1 teaspoon cumin powder
2-4 teaspoons lemon juice
1 teaspoon fresh coriander (cilantro), chopped
1 1/2 teaspoons hot red pepper powder

Make small balls with the mixture and set aside. Wet your hand with water to prevent sticking.

Make a batter with:

8 heaping Tablespoons chick peas flour
2 teaspoons hot red pepper powder
1 teaspoon turmeric powder
2 teaspoons salt, or to taste
water, enough to make a thick batter

Dip the potato balls in the batter until well coated and fry in deep oil. The oil should be hot, but fry at low heat.

These are excellent served with Apple Butter Chutney. See Samosa recipe for approximate nutrition information.

Batata means potato and Wada means dumpling.
Category
Breads
Servings
Makes about 15
Serving Size
2
Calories
0
Protein
g
Fat
0 g
Carbohydrates
0 g
Pictures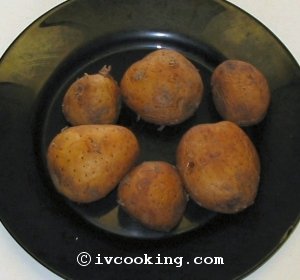 Boiled Potatoes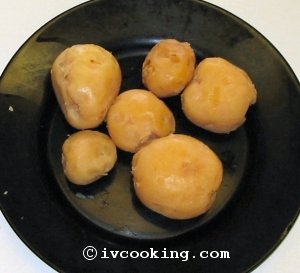 Peeled Potatoes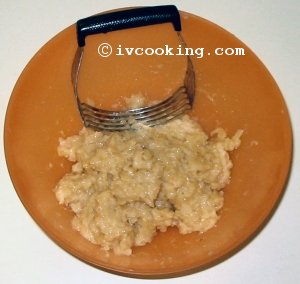 Mashed Potatoes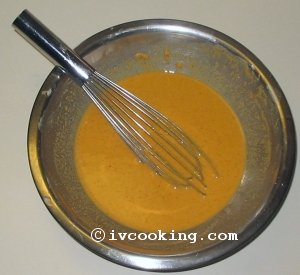 Batata Wada Batter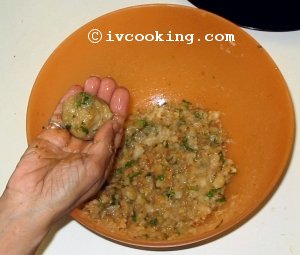 Batata Wada Filling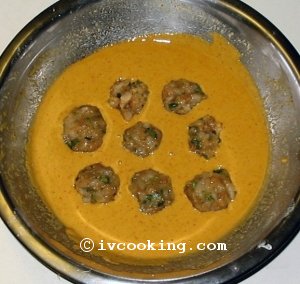 Batata wada dipped in chick peas flour batter.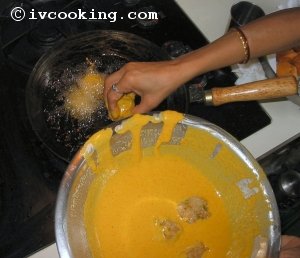 Placing dumplings into deep fryer.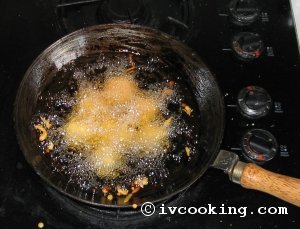 Fry with hot oil over low heat.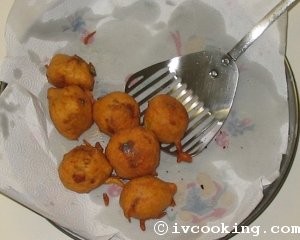 Remove dumplings onto a paper towel.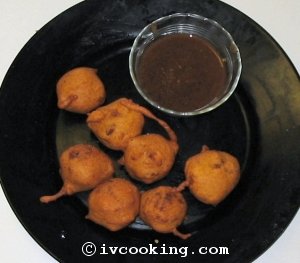 Best served with Apple Butter Chutney
Please do not copy this recipe. Please share it or link to it with this code:
<a href="https://www.ivcooking.com/p269_110.php">Batata Wada Recipe: Fried Potato Dumplings</a>
More Indian Vegetarian Breads
---