Ghee Recipe
Clarified Butter
Simmer until slightly brown, about 10-15 minutes:

1 pound unsalted butter

Skim off the foam, then pour off and save the clear layer on top--this is the ghee. Leave the grainy milk solids in the bottom of the pan. (For a treat, mix 1/2 TBS sugar into the milk solids, and eat with a spoon or with chapati.)

Ghee keeps a very long time in the refrigerator. You can soften it at room temperature or melt it as needed. Many Indian cooks traditionally keep ghee at room temperature for a shorter while, perhaps 4-6 months.
Category
Breads
Servings
Makes 1 3/4 cups
Serving Size
1 TBS
Calories
117
Protein
g
Fat
13 g
Carbohydrates
0 g
Pictures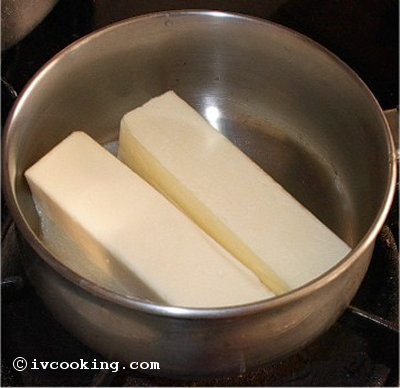 Melt unsalted butter.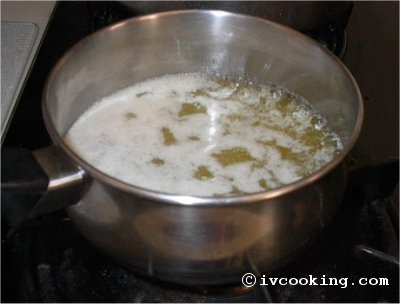 Simmer until slightly brown.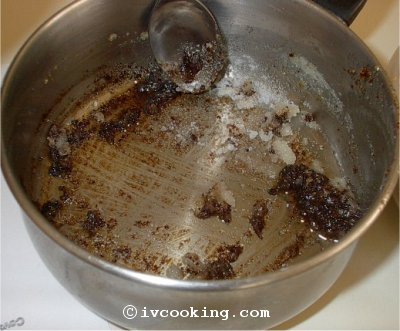 Make a treat by adding sugar to the milk solids. You can eat this with chapati too.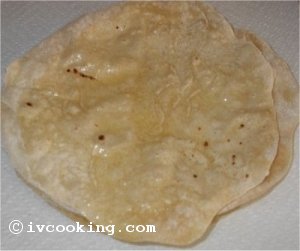 Ghee may be applied lightly to chapatis to make them tastier and keep them moist longer.
Please do not copy this recipe. Please share it or link to it with this code:
<a href="https://www.ivcooking.com/p269_56.php">Ghee Recipe: Clarified Butter</a>
More Indian Vegetarian Breads
---