Tofu Crumbles Sandwiches Recipe
Toasted Sandwich with Tasty Tofu Crumbles
2 TBS vegetable oil
1 cup onion, chopped
14 oz. package Nasoya® Organic Tofu EXTRA FIRM
1/4 cup coriander, finely chopped
1 cup diced tomato
2 TBS dried oregano flakes
1/4 tsp. black pepper
1 tsp. salt
Sliced bread and butter

In a large pot, sauté chopped onions in vegetable oil over medium heat.

Open the tofu package and drain away the water. With a paring knife, cut the tofu into segments while still in the packaging. Once the onions turn clear, add the tofu blocks into the pot. With a potato masher or large fork, pound the tofu blocks in the pot until they turn into a crumble. The pieces should be smaller than 1/4" cubes.

Stir the crumbly mixture with a wooden spoon. When there is little to no water boiling at the bottom of the pot, add the diced tomatoes. Do not allow the tofu to dry or brown.

When the juice from the tomatoes is reduced to a minimum, add the chopped coriander and spices to taste and heat for one more minute.

Toast two bread slices, whole wheat for better health. Apply butter or margerine to the toasted bread, spread a layer of tofu crumbles between the slices, and enjoy while hot.

Remaining tofu can be refrigerated for up to one week.
Note: This recipe is not in the Indian Vegetarian Cookbook.
Category
Breads
Servings
6-8
Serving Size
1 sandwich
Calories
0
Protein
g
Fat
0 g
Carbohydrates
0 g
Picture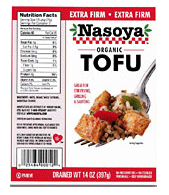 Nasoya® Organic Tofu Extra Firm
Please do not copy this recipe. Please share it or link to it with this code:
<a href="https://www.ivcooking.com/p269_111.php">Tofu Crumbles Sandwiches Recipe: Toasted Sandwich with Tasty Tofu Crumbles</a>
More Indian Vegetarian Breads
---