Chapati Recipe
Whole Wheat Flat Breads
Mix together:

2 cups Indian whole wheat flour
1 teaspoon salt
1 Tablespoon vegetable oil
about 3/4 cup warm water (enough for a kneadable dough)

Knead the dough, cover, and leave aside for at least 1/2 hour or, ideally, up to 2 hours. After about 1 hour (or right before rolling out), punch the dough and knead again without any more water.

Make 10-12 1 1/2" balls; dip each one into dry whole wheat flour, and roll out into thin, 6" circles. Place a flat, ungreased griddle on the stove at medium-high heat. When hot, place a rolled-out chapati "right side" down on the griddle. (The "right side" is the one facing you when you roll it.) When bubbles are visible, turn over and cook until tiny brown spots appear on the side facing the griddle.

If you have a gas stove, hold the chapati with a pair of tongs, and place it directly over the burner flame for a few seconds, until the chapati puffs up. Turn and repeat on the other side.

If you have an electric stove, keep the chapati on the griddle. With a wadded up paper towel to protect your fingers, press gently all around the chapati. Flip the chapati and press gently around the other side. This procedure should make the chapati puff up. (If you press too hard, the chapati will become too crunchy.)

Remove the chapati from the heat, and buter with ghee on the "right side."

Some of the foods that are traditionally served with chapatis are Lentils with Scallions, Spicy Mung Beans, eggplant dishes, green bean dishes, spinach dishes, and zucchini dishes.
Category
Breads
Servings
Makes 10-12
Serving Size
1
Calories
92
Protein
g
Fat
1.6 g
Carbohydrates
16 g
Pictures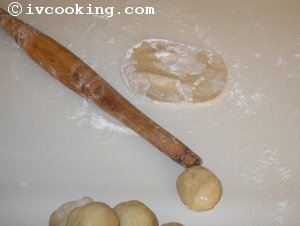 Roll chapati rounds with a rolling pin using flour to avoid sticking.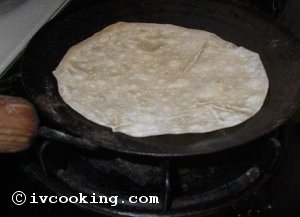 Heat the chapati on a skillet.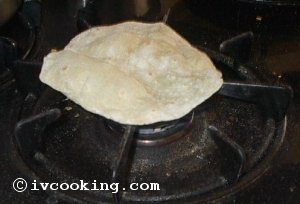 Cook over open flame of gas stove, until it rises.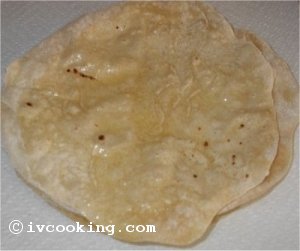 Lightly butter chapatis with ghee so they stay moist.
Please do not copy this recipe. Please share it or link to it with this code:
<a href="https://www.ivcooking.com/p269_76.php">Chapati Recipe: Whole Wheat Flat Breads</a>
More Indian Vegetarian Breads
---