Mysore Pak Recipe
Chickpea Flour Sweet Squares
In a large bowl, place:

2 cups chickpea flour

In a saucepan, melt and continue to heat until steaming:

2 cups ghee

In another saucepan, heat together into a syrup:

1 1/2 cups sugar
1/2 cup water

When the syrup is at the thread stage (226 degrees on a candy thermometer), add 1 cup of the ghee to the flour, (keeping the rest of the ghee on low heat), and stir the four mixture until there are no lumps. Add the flour and ghee mixture to the syrup, and stir constantly until the mixture pulls away from the sides of the pan when stirred and is very thick and lightly browned - about 5 minutes.

Remove form the heat. Add another cup of ghee, a little at a time, then let mixture rest. Sprinkle with a tablespoon of warm milk.

Pour into a colander to drain off the excess ghee, then transfer to a baking pan. Flatten with the back of a measuring cup; cut into 1" diamonds, then flip out (upside-down) onto paper towels to absorb any remaining ghee.
Category
Desserts
Servings
32
Serving Size
1-2
Calories
224
Protein
g
Fat
15.7 g
Carbohydrates
18 g
Picture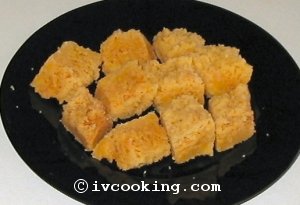 Mysore Pak when finished.
Please do not copy this recipe. Please share it or link to it with this code:
<a href="https://www.ivcooking.com/p269_23.php">Mysore Pak Recipe: Chickpea Flour Sweet Squares</a>
More Indian Vegetarian Desserts
---