Gulab Jamun Recipe
Milkballs in Sweet Syrup
Make a syrup by boiling together until the sugar dissolves:

3 cups sugar
7 cups water

Turn off the heat and add:

2 teaspons cardamom powder
1/4 teaspoon saffron

Set the syrup aside in the saucepan on the stove.

Mix by hand in a bowl:

2 cups powdered milk
2/3 cup all-purpose flour
1 teaspoon baking soda

Gradually mix in to form a soft dough (only slightly sticky):

1 1/2 cups (or less) heavy cream

Make into walnut sized balls (you may use a small amount of cream on your hands while rolling) set aside and cover with a damp cloth.

Heat in a deep frying pan or wok:

4 cups vegetable oil

Add the milkballs a few at a time in a basket. Fry to an even dark brown, shaking the basket continously. (Adjust the heat so they don't get dark any sooner than 5-7 minutes.) When browned, drain the oil off the milkballs, dip them into the syrup, then transfer onto a serving dish. (Re-boil the syrup between batches to keep the thickening process happening.)

After all the balls have been prepared, boil the syrup again for about 15 minutes, until thicker, and pour over the milkballs. Let the syrup soak in for a few hours before serving.

Serve hot or cold. This may be re-heated from the refrigerator (or freezer) by pouring hot syrup over the (defrosted) milkballs. They may also be topped with whipped cream.
Category
Desserts
Servings
Makes about 18
Serving Size
2 balls w/ syrup
Calories
509
Protein
g
Fat
16.4 g
Carbohydrates
78 g
Pictures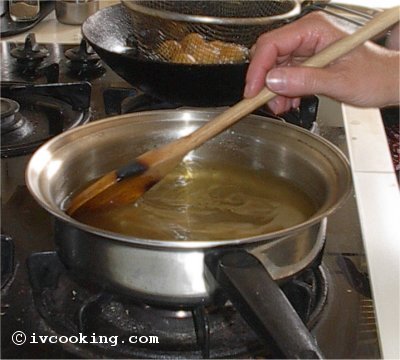 Preparing the syrup.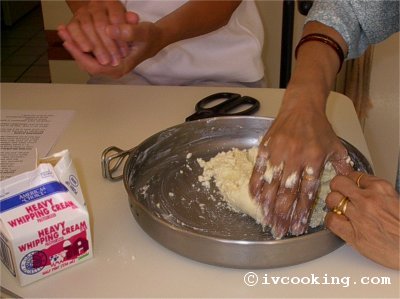 Preparing the dough.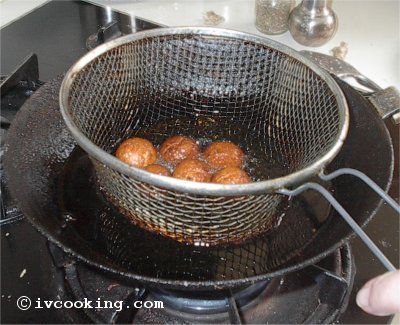 Frying the dough.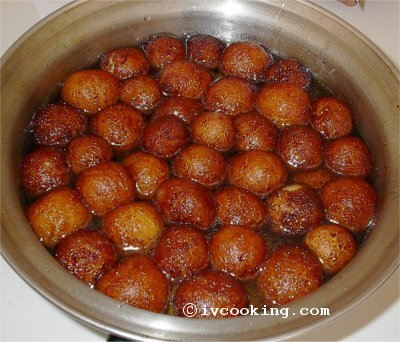 Gulab Jamun when completed.
Please do not copy this recipe. Please share it or link to it with this code:
<a href="https://www.ivcooking.com/p269_18.php">Gulab Jamun Recipe: Milkballs in Sweet Syrup</a>
More Indian Vegetarian Desserts
---