Shev Recipe
Spicy, Fried Morsels Made of Chickpea and Rice Flours
In a bowl mix well:

1 1/2 cups rice flour
1/2 cup chickpea flour
1 1/2 TBS roasted sesame seeds
1 TBS cumin/corinader powder
3 TBS vegeatable oil
1 1/2 teaspoons salt
1/2-1 teaspoon hot red pepper powder (or more to taste)
3/4 teaspoon fresh coriander leaves (cilantro), choped
1/2 teaspoon cumin seeds
1/2 teaspoon turmeric
1/4 teaspoon oregano seeds (ajama)
pinch hing

Add water bit by bit to make a soft dough, about 2/3 cup. Using a cookie press, spritz dough into flat, 1 1/2"-2" wide sprials on waxed paper. Alternately, you can use a strong plastic freezer bag with a 3/8" hole snipped in one corner to squeeze out the spirals. In this case, be sure the dough is very soft so the bag won't break. Deep fry until brown and crispy.
Category
Snacks
Servings
2 1/2 - 3 dozen
Serving Size
2
Calories
98
Protein
g
Fat
3.3 g
Carbohydrates
15 g
Pictures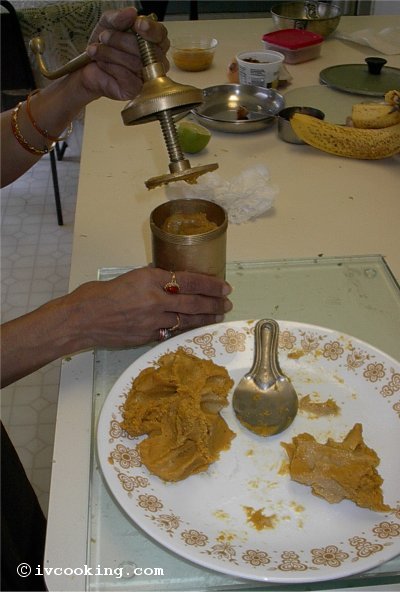 The prepared dough is placed in the press. The bottom of the press is equipped with a plate that can form the shev.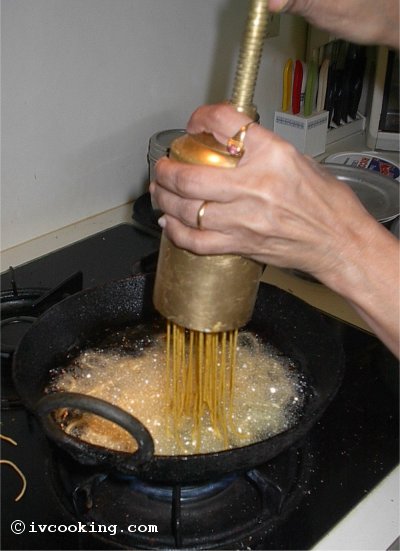 Turn the handle of the press and move it in a spiral to pour the dough into the hot oil.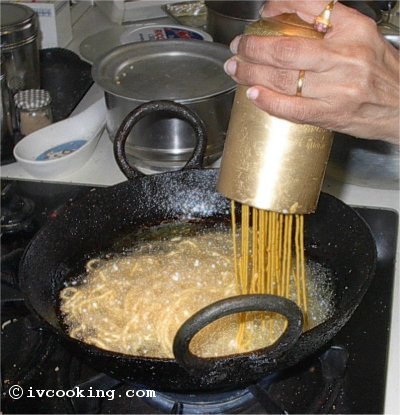 This type of press may be purchased at a local indian store.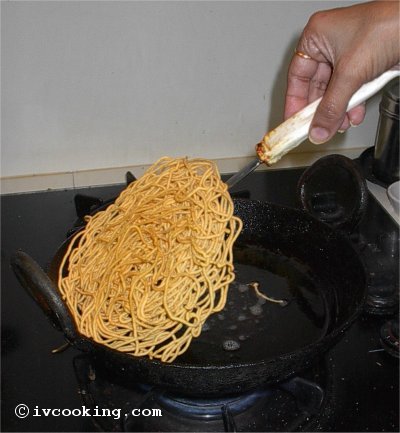 Remove and drain the shev against the side of the wok when it has slightly browned.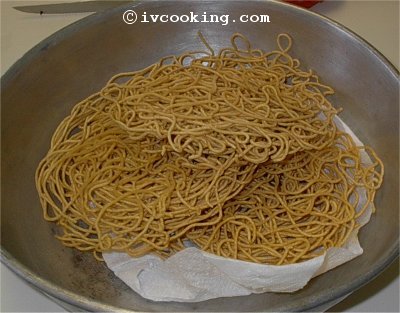 Let sit in a bowl over a paper towel until cool. Shev may be eaten as a snack or crumbled as a garnish over black-eyed peas curry.
Please do not copy this recipe. Please share it or link to it with this code:
<a href="https://www.ivcooking.com/p269_41.php">Shev Recipe: Spicy, Fried Morsels Made of Chickpea and Rice Flours</a>
More Indian Vegetarian Snacks
---