Chapati Chawada Recipe
Snack Mix of Seasoned Chapatis and Nuts
In a bowl, mix:

2 cups dry chapatis, crumbled and crushed into small pieces
1 TBS roasted (small) Indian chickpeas
1 TBS whole, roasted peanuts (Indian or other variety)
2 teaspoons sugar
1 teaspoon coriander/cumin powder
1/2 teaspoon salt
1/2 teaspoon turmeric
1/3 teaspoon hot red pepper powder
1 pinch garam masala

Hean in a saucepan:

2 TBS vegetable oil
tiny pinch hing

Add:

1 pinch cumin/mustard/sesame seed mixture
1 pinch Indian bay leaf, crumbled
1 whole, dry, red hot pepper

Add:

the chapati mixture
5-6 fresh coriander leaves (cilantro)

Mix well over heat for a few minutes, and serve by itself as a snack or with yogurt.

This is a good way to use left-over chapati.
Category
Snacks
Servings
2 1/4 cups
Serving Size
3 TBS
Calories
47
Protein
g
Fat
2.7 g
Carbohydrates
5 g
Picture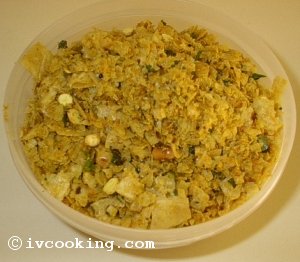 Chapati chawada when completed makes a great snack.
Please do not copy this recipe. Please share it or link to it with this code:
<a href="https://www.ivcooking.com/p269_40.php">Chapati Chawada Recipe: Snack Mix of Seasoned Chapatis and Nuts</a>
More Indian Vegetarian Snacks
---