Black-Eyed Pea Curry Recipe
Seasoned Black-Eyed Peas With Onions and Tomato
Cook 1 cup raw black-eyed peas by placing them in a saucepan with enough water to cover, bringing to a boil and discarding the water 2 times. Then add 3 cups water again, bring to a boil, and simmer until the peas are soft, about 45 minutes. Drain and set aside.

Make a hot pepper mixture by grinding together and setting aside:

1/2 jalapeño pepper
1/2 clove garlic
1/4 pinch fresh ginger, grated
pinch cumin seeds

Heat in a saucepan:

1 Tablespoon vegetable oil
tiny pinch hing
1/2 teaspoon cumin/mustard/sesame seed mixture

When the seeds pop, add and sauté until the onions are soft:

2 medium onions, diced
1 1/2 tomatoes, diced
the hot pepper mixture
1 Tablespoon tomato paste (opt.)

Add powdered spices and whole spices:

2 teaspoons cumin/coriander powder
1 teaspoon turmeric
1 teaspoon garam masala
1/4-1/2 teaspoon hot red pepper powder (opt.)
6 whole cloves
10 black peppers
2 inch cinnamon stick, broken into pieces
1 Tablespoon Indian bay leaves

Then add:

the cooked black-eyed peas (about 1 1/2 cups)
2/3 cup water
2 Tablespoons fresh coriander leaves, chopped
1 1/4 teaspoon salt

Simmer for 10 minutes. Serve hot.
Category
Dals & Legumes
Servings
Makes 3 1/2 cups
Serving Size
3 TBS
Calories
30
Protein
g
Fat
0.8 g
Carbohydrates
5 g
Pictures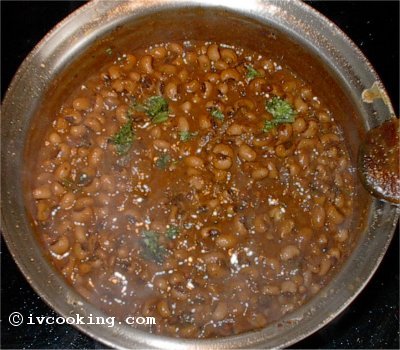 Black-eyed Pea Curry.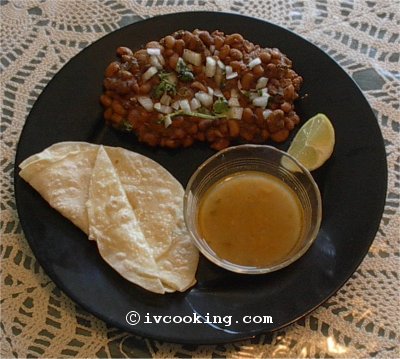 Here is a complete meal with black-eyed peas curry as the main dish. The curry may be garnished with diced onions, cilantro, and lime. Lentil soup accompanies the chapati.
Please do not copy this recipe. Please share it or link to it with this code:
<a href="https://www.ivcooking.com/p269_55.php">Black-Eyed Pea Curry Recipe: Seasoned Black-Eyed Peas With Onions and Tomato</a>
More Indian Vegetarian Dals & Legumes
---