Chana Recipe
Seasoned Chickpeas with Onions and Tomato
Make a hot pepper mixture by grinding together and setting aside:

1/2 jalapeño pepper
1/2 clove garlic, minced
1/4 inch fresh ginger, grated
pinch cumin seeds

Heat in a saucepan:

1 Tablespoon vegetable oil
tiny pinch hing
1/2 teaspoon cumin/mustard/sesame seed mixture

When the seeds pop, add and sauté until the onions are soft:

2 medium onions, diced
1 1/2 tomatoes, diced
the hot pepper mixture
1 Tablespoon tomato paste (opt.)

Add powdered spices and whole spices:

2 teaspoons cumin/coriander powder
1 teaspoon turmeric
1 teaspoon garam masala
1/4-1/2 teaspoon hot red pepper powder (opt.)
6 whole cloves
10 black peppers
2 inch cinnamon stick, broken into pieces
1 Tablespoon bay leaves

Then add:

1 3/4 cups cooked chickpeas (1 [19 oz.] can)
2/3 cup water
1 1/4 teaspoon salt
2 Tablespoons fresh coriander leaves (cilantro), chopped

Simmer for 10 minutes. Serve hot. You can crush a few chickpeas against the side of the pot with your spoon to thicken the sauce.
Category
Dals & Legumes
Servings
Makes 4 cups
Serving Size
3 TBS
Calories
34
Protein
g
Fat
0.9 g
Carbohydrates
5 g
Pictures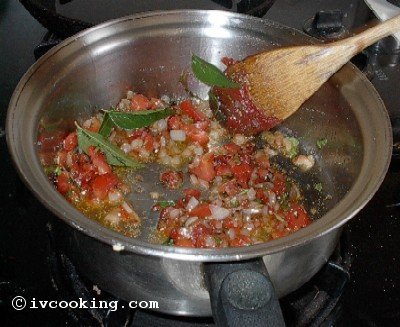 The sautéed onions, tomatos and spices create the robust, flavorful base for this dish.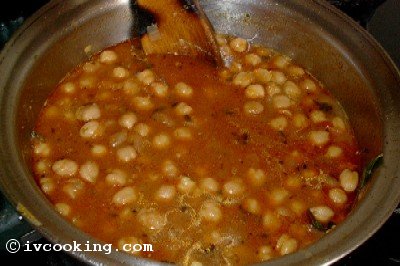 Mash some chickpeas against the side of the pot to create a thicker texture.
Please do not copy this recipe. Please share it or link to it with this code:
<a href="https://www.ivcooking.com/p269_54.php">Chana Recipe: Seasoned Chickpeas with Onions and Tomato</a>
More Indian Vegetarian Dals & Legumes
---