Lentil Soup Recipe
Lentil Soup Flavored With Spices and Coconut
Rinse well and cook in 2 cups water till soft - about 30 minutes:

1/2 cup oily (or other) lentils (makes 1 1/2 cups cooked)

Place the lentils and their cooking liquid in a bowl with:

1 teaspoon salt

Mix with a rotary beater or in a blender or food processor until smooth.

Heat in a saucepan:

1 TBS vegetable oil

Add and sauté until the seeds pop:

pinch hing
1/2 teaspoon cumin/mustard/sesame seed mix
4-5 Indian bay leaves
2 dried hot peppers (opt.)

Add chopped vegetables and sauté until soft:

1/2 clove garlic, chopped
1 cup onion, chopped
1 medium tomato, chopped
2 inches fresh, green hot pepper, chopped
2 TBS fresh coriander leaves (cilantro), chopped

Stir in:

1 TBS brown sugar
1 TBS unsweetened coconut

Then add the powdered spices:

1 1/2 teaspoons cumin/coriander powder
1 teaspoon hot red pepper powder (opt.)
1/2 teaspoon garam masala
1/2 teaspoon other masala (or more garam masala)

Add the lentil mixture and 2/3 cup water (or more) to make a thin paste or thick liquid; cook until heated through.
Category
Soups
Servings
6 cups
Serving Size
1/3 cup
Calories
43
Protein
g
Fat
1.4 g
Carbohydrates
6 g
Picture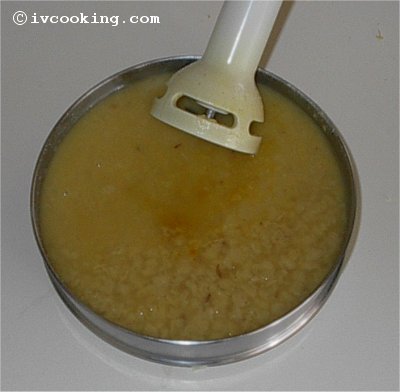 Add salt and turmeric to the soft, cooked lentils, then mix until smooth. These lentils were cooked in a pressure cooker.
Please do not copy this recipe. Please share it or link to it with this code:
<a href="https://www.ivcooking.com/p269_36.php">Lentil Soup Recipe: Lentil Soup Flavored With Spices and Coconut</a>
More Indian Vegetarian Soups
---